Treating back pain in children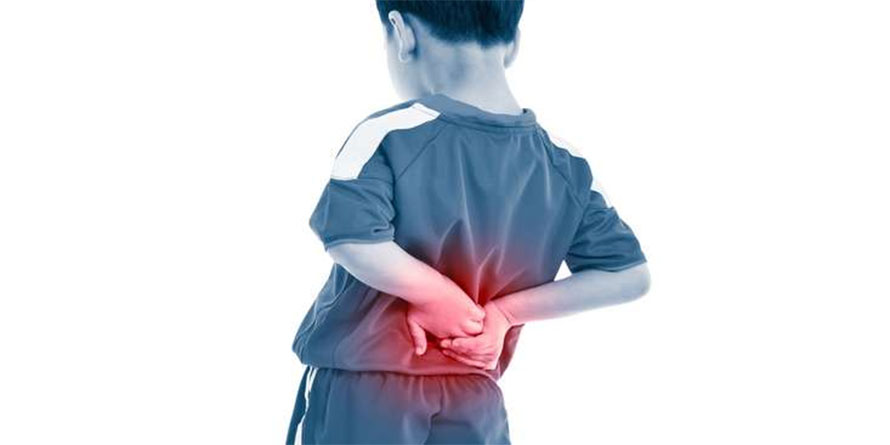 health and fitness

Treating back pain in children
Tuesday 29 January 2019

The causes of back pain in children are linked to, among other things, higher body weight, higher obesity rates, higher intensity and sports activities, and the increasing weight of school backpacks. .
Back pain is a well-known discomfort in adults, but it is also diagnosed more frequently in children and adolescents. Most parents don't expect healthy children to complain about back pain. However, the truth is that it is common among young people.
The causes are linked to, among other things, higher body weight, higher obesity rates, higher intensity and sports activities, and the increasing weight of school backpacks.
Some of the concerns with back pain include knowing when the problem may be more serious than just tension and when specialized imaging tests may be helpful. The problem with imaging tests is that they often expose the child to high doses of radiation, and they may not help in making a diagnosis.
That said, there are some warning signs to look out for to help understand when back pain may be more severe in a younger person, including:
• Pain at night (especially which wakes the child from sleep)
• Symptoms of generalized illness (fever, chills, malaise, weight loss)
• Symptoms that persist beyond several weeks
• Pain, numbness or weakness in the legs
These warning signs are a good screening test to determine if further evaluation should be continued.
MUSCLE BACK PAIN
Muscular back pain is by far the most common cause of back pain in children and teens, with around two-thirds complaining that they have ultimately been diagnosed with this type of injury.
Injuries include muscle and ligament strain, injuries from overuse, posture problems, and poor conditioning of the back muscles. Most often, imaging, including X-rays, CT scans, and MRIs are not helpful in making this diagnosis, and these tests are usually not needed unless there are the aforementioned warning signs. . As with any test, over-testing has its drawbacks, so you should discuss the merits of getting an imaging study with your doctor.
STRESS FRACTURES
Stress fractures can occur in the spine. Most often, they occur in adolescents, who may never know that an injury has occurred. Over time, signs may appear.
The most common type of spine stress fracture is called spondylolysis, an injury to the bone at the back of the spine. This injury most commonly occurs in adolescents who play sports involving repetitive hyperextension (backward bending) of the spine, such as gymnasts and divers.
If the stress fracture occurs on both sides of the spine, it can cause spinal instability or a condition called spondylolisthesis. This condition, also known as a "slipping" of the spine, can cause the spinal alignment to shift.
Stress fractures usually do not heal. However, most children and adolescents diagnosed with spondylolysis are treated non-surgically and do better with less invasive treatments. Surgery is generally reserved for patients with persistent pain even after several months of non-surgical treatment or for patients with severe slips resulting in loss of spinal alignment.
DISC PROBLEMS
Herniated discs are much less common in children than in adults, but they can occur and cause severe symptoms. When a herniated spinal disc occurs, the soft cushion between two vertebrae is ruptured. This disc material is forced out of its normal space and can push against the nerves and spinal cord.
Its symptoms include pain in the legs, numbness and tingling in the legs, weakness in the lower limbs, and difficulty bending or straightening the spine.
MRI tests can be helpful because the x-rays will usually be normal.
In children, the normal disc material is soft and elastic – it has a much better ability to withstand unusual forces on the spine. As people age, the disc loses its elasticity and flexibility and can become prone to rupture. However, even in the younger population, discs can rupture due to excessive force or abnormal disc structure.
Herniated discs can be managed without surgery, but children and adolescents with severe pain may benefit from surgery.
INFECTION
Infections of the bone or discs of the spine can be a difficult diagnosis. Often occurring in toddlers or adolescents, infections of the spine can cause vague symptoms of discomfort, mild fevers, and generalized back pain.
If suspected, imaging tests are done to confirm the location of the infection.
ALIGNMENT ANOMALIES
Problems with spinal alignment can cause noticeable strain and may be associated with the onset of back pain. It should be noted, however, that more subtle deformities, which, although noticeable, rarely cause pain problems. The two most common spinal deformities in children are scoliosis and Scheuermann's kyphosis. Scoliosis is a deformity that causes an S-shaped curvature of the spine when viewed from the back. Scheuermann's kyphosis causes a sharp curvature of the spine when viewed from the side.
These two conditions are different, but the principles of treatment are similar. In less severe deformities, observation is the most appropriate treatment. Once the deformity has progressed, a brace may be considered. Surgery is only considered in the most severe deformities.
TUMOR
Several different benign and malignant bone tumors can occur in the spine. Although spinal tumors are an unusual cause of back pain in children and adolescents, they should be considered a possible, albeit unusual, diagnosis.
Some of the warning signs mentioned above can be associated with tumors.
Treatment may include drugs, radiation therapy, and surgery.
JEMIMAH KAMAU, Physiotherapist, Chiropractic Health Center & Physiotherapy.